Racked is no longer publishing. Thank you to everyone who read our work over the years. The archives will remain available here; for new stories, head over to Vox.com, where our staff is covering consumer culture for The Goods by Vox. You can also see what we're up to by signing up here.
Kitty White is five apples tall, and she weighs as much as three. She lives in London with her twin sister, Mimmy, and their parents, George and Mary. The third grader plays piano, bakes cookies, and is never seen without her signature red bow that she wears on her left ear.
She is, of course, better known as Hello Kitty, and she is everywhere. With more than $8 billion dollars in global annual sales, she's the not-quite-cat who has taken over the world, proving that cuteness can conquer all.

It's 15 minutes before the doors will open at the very first Hello Kitty convention in downtown Los Angeles, and thousands of people are lined up to get in. Some have been there since three in the morning, and most are decked out in some sort of Hello Kitty gear, whether it be full-on cosplay or a favorite T-shirt.
There's just so much. So much to look at, so much to do, so much to buy.Kitty Con, like the Hello Kitty brand itself, is a lot to take in. There's just so much. So much to look at, so much to do, so much to buy. You can have Hello Kitty nail art done by Sanrio's resident nail artist, Masako Kojima, while you eat a bow-adorned donut from the Hello Kitty Cafe truck and a complimentary Hello Kitty Yoplait yogurt in Friendship Berry. You can revive your phone at a glowing Hello Kitty charging station, take out cash at a Hello Kitty-wrapped ATM, and wash your hands with Hello Kitty soap in the bathrooms. (Rumor has it there was also Hello Kitty toilet paper in the stalls, but that was all used—or stashed in the plastic Hello Kitty backpacks that came with admission—by the end of the first morning.)
You can get free Hello Kitty tattoos, both temporary and very permanent ("Hug Life" in ornate script is a personal favorite), and you can spend gobs of money on merch like Hello Kitty Spam musubi kits and Beats by Dre headphones, all charged on a Hello Kitty credit card that you can sign up for at a kiosk some 20 feet away. You can get schooled in the art of Hello Kitty flower arranging, cookie decorating, and scrapbooking. You can play Hello Kitty Wheel of Fortune and take part in a Hello Kitty cosplay contest. You can Instagram yourself in any number of Hello Kitty-themed tableaux. You can even meet Hello Kitty herself, dressed up in one of her myriad outfits whipped up expressly for the occasion.
You can also meet Yuko Yamaguchi, the con's resident rock star. Fans scream her name in line as she walks by.
Yamaguchi has been Hello Kitty's designer—the character's third—since 1980. She's shown up to the convention, which coincides with Hello Kitty's 40th anniversary, in a navy Jane Marple dress with a white Peter Pan collar and studded boots. Her dyed orange hair is set in two buns, with a bow on the left one, just like the character she spends her days designing. The pièce de résistance is the red heart-shaped purse bedazzled with Hello Kitty's face and personalized with her name that hangs across her body.
Despite her playful appearance, Yamaguchi, known to fans as Kitty Mama, means business. She speaks slowly and assertively through Aya Seto, a project associate who acts as her translator, explaining how she ended up at the helm of Japanese character empire Sanrio.
Though her dream was to be an art director at an ad agency, she says it was impossible for a woman to land such a role in Japan some 35 years ago. On her job hunt, she attended presentations by a variety of companies, but the one at Sanrio stood out. Instead of a rote speech by an HR rep, Sanrio had founder and president Shintaro Tsuji talk to young applicants.
"He said he wanted to develop the business, and he wanted every employee to take leadership and responsibility as if they were the CEO, regardless of what role they played in the company," she explains. "After the presentation, I thought about how I wouldn't be limited there. I decided to join Sanrio so I could think and strategize as a designer about how to expand the brand."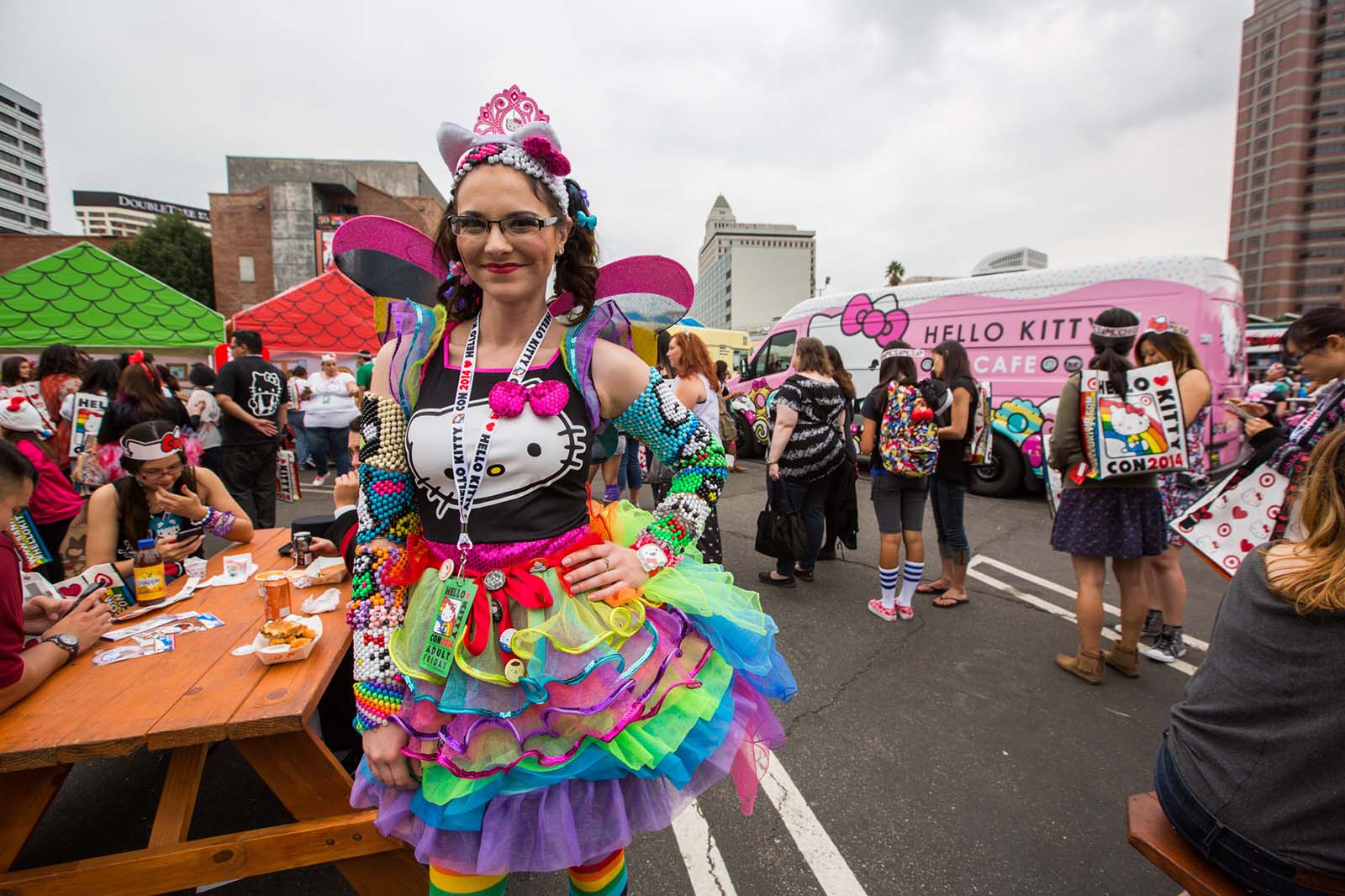 "The most important thing about events like these are the fans."
That entrepreneurial spirit has pushed Hello Kitty forward and kept Yamaguchi on her enviable perch. Her role has expanded too—she's now the creative director of all of Sanrio and its 400-plus characters—but Hello Kitty remains paramount, as evidenced by the elaborate four-day convention.
"The most important thing about events like these are the fans," she says as an autograph line forms to the side. "The bigger the event, the more fans I can meet. By interacting with the fans, the next Hello Kitty design is born."

Is Hello Kitty a Cat?
Yuko Yamaguchi, Hello Kitty designer: "I met Hello Kitty 35 years ago, and I've never thought of her as a cat. That's because there's something about Hello Kitty that makes you want to be her. She's someone people look up to as a role model. Hello Kitty doesn't speak the language of cats, she speaks the same language as us. She has the same lifestyle as us. To know that so many people think of her as a cat was educational to me. There's much more we can do at Sanrio to communicate that she is a girl."
Oliver Juang, fan: "It really depends how you define cat. She has whiskers and paws, but she behaves like a human being in most cases. I think Kitty is a human with catlike features or a cat with humanlike behavior."
Dan Peters, Sanrio art director: "Hello Kitty is a third grader. If you want to talk about it technically, Hello Kitty walks on two legs, and Hello Kitty has an actual cat named Charmmy Kitty who walks on four legs. I don't view her as a cat. She's done so much and she's been all over the place—she's a very active little girl."
Christine Yano, anthropologist: "Obviously Sanrio created her in cat form, but they've also created her in the spirit of a girl."
Ariel Martin, fan: "She's always been portrayed as a cat, but I know furries are kind of big in Japan. When I heard about, 'Is Hello Kitty a cat?' I thought that maybe they meant she was a furry. It makes sense because the idea behind furries is that you're welcoming and you're in costume and you make friends that way. Hello Kitty always says she can never have too many friends!"
Ray Hatoyama, Sanrio managing director and chairman: "Hello Kitty is Hello Kitty. When you say 'Kitty' in Japanese, it's just a name. 'Kitty' doesn't mean cat like it does in English. Even though she's globally associated with a cat, the actual word doesn't have that kind of meaning in Japan."
Dave Marchi, Sanrio brand management and marketing director: "We never reference her as a cat in that kind of traditional way. She doesn't meow, she doesn't drink milk out of a bowl, she's not a pet. She is a graphical depiction that looks kind of catlike, but ultimately she's not, and we call her a little girl. It's not black-and-white, which makes her special."
Parise Sellitti, fan: "Apparently not, but I still think she's a kitty."
Sanrio was founded in 1960 by Shintaro Tsuji, affectionately known to employees and fans alike as Papa Tsuji. Originally the Yamanashi Silk Company, it introduced embellished rubber sandals in 1962. Tsuji learned, as he would time and time again, that a little bit of cuteness goes a long way: the decorative footwear was a hit. Thus began Sanrio's transformation into the full-fledged character company we know today.
Tsuji soon acquired the Japanese licensing rights to Snoopy, and by the early 1970s was interested in Sanrio creating its own characters that it could capitalize on. Market research showed that a dog would prove to be the most popular with consumers, but in an effort not to cannibalize its Snoopy business, Sanrio settled on a white cat.
Yuko Shimizu was Hello Kitty's first designer, and she named the character after Kitty, the kitten belonging to Alice's cat, Dinah, in Lewis Carroll's Through the Looking Glass. The "Hello" was added to fulfill Tsuji's "social communication" mandate: Hello Kitty is about extending a hand in the name of friendship. "As Hello Kitty always says, 'You can never have too many friends!'" is something you hear again and again in Sanrio-land.
Hello Kitty was birthed in 1974, not quite girl, not quite cat, but rather gijinka—an anthropomorphization. It was anthropologist Christine Yano who caused the internet to explode this summer with her declaration to the Los Angeles Times that "Hello Kitty is not a cat" in promotion of the Japanese American National Museum exhibit she curated to coincide with Hello Kitty's 40th anniversary.
Let's clear something up, before we get in too deep: Technically, sure, Hello Kitty is not a cat—she's a character, not an actual animal. But she's a character in the form of a cat, the semantics of which were lost in translation and generated a collective freak-out. She's not a cat, but she's not not a cat, and that's something we're going to have to be okay with.
Hello Kitty was Sanrio's attempt to cash in on the fledgling and powerful girl consumer.Yano has been studying Hello Kitty for more than 15 years, even authoring a book on the topic called Pink Globalization. As she explains it, Hello Kitty was Sanrio's attempt to cash in on the fledgling and powerful girl consumer.
"By the 1970s, World War II seemed like a distant past. The whole reconstructing of Japan in the postwar era was done, and in its place was an emergent girl culture," she explains to me over the phone from Boston, where she's a visiting professor at Harvard for the semester. "Girls are developing their own kind of slang and handwriting. There's this emphasis on fanshii guzzu, or fancy goods, which means frilly stuff, small items. Hello Kitty was developed right smack-dab in the middle of this booming girl culture that was just arriving in Japan."
This dovetailed with an era of Japanese Anglophilia, thus Kitty's British background.
"Books like Anne of Green Gables were very popular," Yano continues. "British culture was part of girls' storybook life, a life to be emulated. The British middle class was like a dream."
Hello Kitty's biography is actually a British-American mash-up. She lives in London and her parents' names, George and Mary, evoke British royalty, but she also bakes apple pies and lives in a house with a white picket fence. But as Yano concedes, that doesn't really matter. What does matter is this: Hello Kitty's biography reflects a Western ideal that Japanese girls couldn't get enough of.

Fast-forward 40 years and a continent away, and Hello Kitty's fan base extends far, far beyond young Japanese girls. In fact, the crowd at Kitty Con is among the most diverse I have ever seen. There are kids in strollers and old people in wheelchairs, breast-feeding moms and too-cool teens. Middle-aged couples in khakis and sneakers stand alongside twentysomething girls in bikinis and furry leg warmers. There are lots of men and plenty of hipsters.
"I really look at her as the most perfect of our designs."The core of Hello Kitty's near-universal appeal comes from her impeccable simplicity: two eyes, six whiskers, a nose, and a bow, all on a pleasingly round face. "I really look at her as the most perfect of our designs," notes Sanrio art director Dan Peters. "Her basic shape is really appealing. She's huggable, and there are no sharp edges to her. I think everybody can relate to that and be like, 'Oh my gosh, she is just so cute.' She's a simple, perfectly drawn character, and it's very difficult to find that."
The result is a "Zen-like countenance," as Dave Marchi calls it. Marchi has been at Sanrio for nearly 15 years (this is a company that truly retains its employees) and is currently its senior director of brand management and marketing.
"People look at her and feel this love or whatever it is they feel, which is also described as this element of kawaii, a very particular Japanese form of cuteness," he says. "But to call it cuteness is just not enough—it goes beyond that. It's a feeling that you get from looking at Hello Kitty that's almost like being in love. It's this insatiable hunger."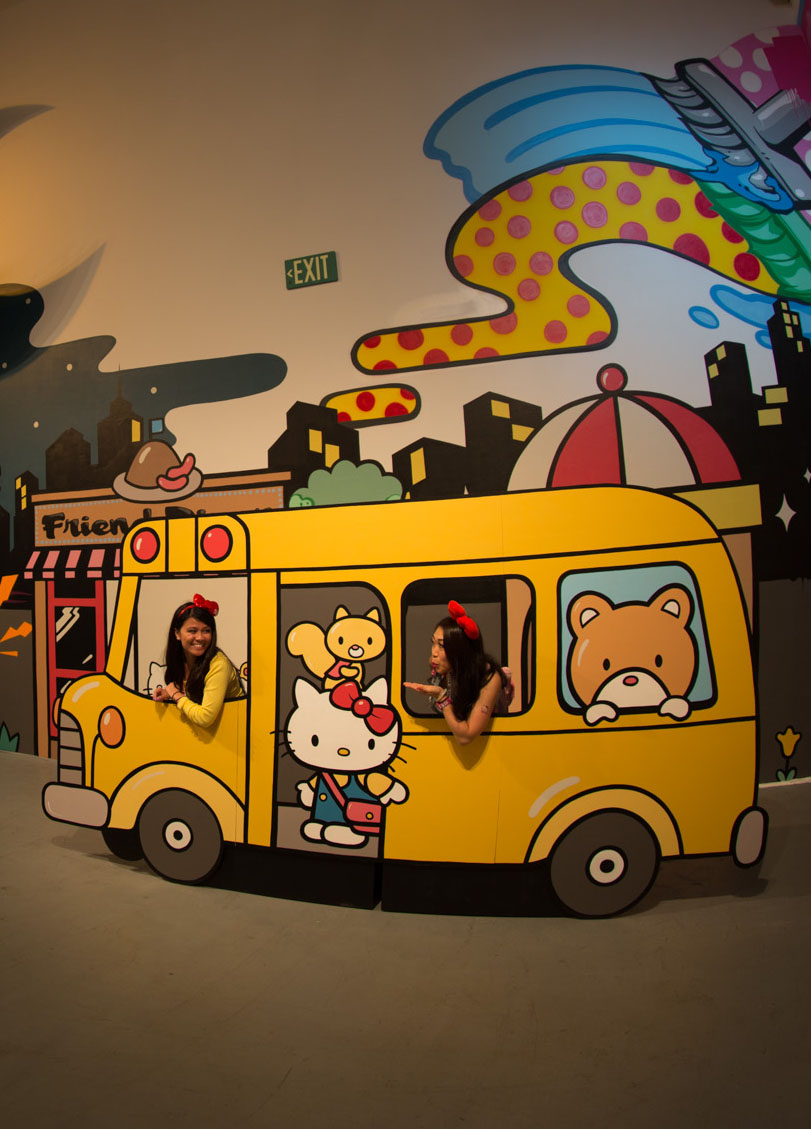 "To call it cuteness is just not enough—it goes beyond that. It's this insatiable hunger."For Hello Kitty, as per the JANM exhibit, "kawaii can be taken as a relational term, swaddled in emotions of attachment that draw people to an object." It should come as no surprise that girl culture is at the very heart of kawaii, though you most certainly don't have to be a girl to take comfort in Kitty. "So CUTE!" is a common refrain at Kitty Con, from men and women alike.
Among Hello Kitty's superfans are Marty Garrett and Salumeh Eslamieh, a married couple who live in San Francisco and owe their entire relationship to Kitty. I sit with the pair, who are expecting their first child, at a picnic table in Sweet Happy Plaza, the outdoor area of the con replete with activity booths, food trucks, and a kids' play zone.
Despite being among the brand's most fervent collectors—they'll both sit on fan panels over the course of the weekend—they're perhaps the con's most understated attendees. Garrett, who, like his wife, is 32, is sporting a single vintage-inspired Hello Kitty button, while Eslamieh wears a wooden bow ring that Garrett gave her for their first wedding anniversary, as well as a Hello Kitty watch he got her for her birthday.
Eslamieh was a childhood fan ("There's a picture of me in a Hello Kitty shirt when I was two years old"), while Garrett discovered Hello Kitty in high school. "I was interested in Pokémon and video games and a lot of things Japanese," he says. "When I discovered Sanrio, it was similar: a vast world of characters, all offering something different. I went along with it, knowing that liking Hello Kitty would be kind of out of the ordinary for a guy."
During college at San Francisco State University, Garrett played in a band with a friend of Eslamieh's, but the two didn't click until their shared love of Hello Kitty was discovered. Garrett even worked at a Sanrio store to earn extra cash while taking classes, and Eslamieh would come and visit him on his shifts.
"It was a chance for us to talk about products and other characters and continue to learn about each other and our interests though that commonality of our love for Sanrio," Garrett says. Eslamieh chimes in, "It started our friendship before it started our romance."
The relationship stuck, and the two got engaged, Hello Kitty always playing a pivotal role in their story. When the couple planned the trip that would end up being their honeymoon, they chose Hawaii after hearing about the Sanrio Cafe near Pearl Harbor. It was their first stop. "Among all the natural wonders that we did see, like volcanoes and waterfalls," Eslamieh laughs, "we had to see the cafe."
They've made a point to go to Sanrio stores wherever they travel, whether it be Paris, Mexico, or, of course, Japan, where they also visited both Puroland, Sanrio's indoor theme park that attracts a million and a half visitors every year, and Harmonyland, its outdoor theme park. "One of the things we appreciate most about Sanrio is being able to go to these locations—whether it be in another city, another state, another country—and connect a Sanrio experience to our own experience," says Garrett.
Then there's their collection, the bulk of which is rare and vintage items found at swap meets. While it's sizable, they're firmly in the quality over quantity camp. They prefer Sanrio exclusives to licensed goods, and their latest kick is tracking down early issues of the Hello Kitty magazine, Strawberry News.
It also helps when a piece has a sentimental value: Their most prized score is the sign from the Sanrio store Garrett worked at in college. "When the store closed," explains Eslamieh, "we really wanted the sign. We had to go through some hoops to try to get it." She smiles at Garrett, who picks up the story, "The reason we were so dedicated to getting that sign is because it's where our relationship grew. We couldn't honestly just let it get thrown away."
"Trying to put this all into words is really difficult," he continues, surveying the colorful scene at Kitty Con. "But it's so much easier when you're at an event like this. You walk through the crowd that's here, and there's no hate, everyone is so accepting. It's like, 'Yeah, we're here for Hello Kitty, and Hello Kitty's here for us.'"

"Small gift, big smile" is the Sanrio motto, which is why the very first Hello Kitty product, which debuted in 1975, was a tiny vinyl coin purse featuring Kitty in between a goldfish in a bowl and a bottle of milk with a straw in it, the word "Hello!" written over her head. It sold for 220 yen, at the time the equivalent of less than a dollar.
It's on display at the con, and a constant stream of people line up to snap a photo of it. As a sign on the wall reads, the coin purse is on loan from Sanrio's Tokyo headquarters, "where it is preserved in a special holding box deep within a high-security vault."
From the beginning, Sanrio has always been about selling cute, cheap things, not grand narratives.From the beginning, Sanrio has always been about selling cute, cheap things, not grand narratives. While fans are charmed by Hello Kitty's background (she's a twin! in London! who likes cookies!), there's not much to it. She did get a boyfriend, Dear Daniel, in 1999, and her own pet cat, Charmmy Kitty, in 2004, but the world of Hello Kitty is much more about things than it is about stories.
Therein lies the genius of the brand: By not being constrained by a detailed personal history or even being particularly defined at all, she can be—and sell—more things to more people. Part of this comes from the fact that Hello Kitty has no mouth; as Sanrio likes to point out, she speaks from the heart. While Western critics have associated her lack of mouth with a lack of agency, her muteness plays into her comforting appeal, that Zen-like presence, and also allows her to take on any number of personae anywhere in the world.
Ken Yamamoto is a senior vice president at Sanrio, having joined the company 34 years ago straight out of college. In the company's early years, Sanrio built its business on its own shops, as well as wholesale accounts with department stores in Japan. In 1976, it made the leap across the Pacific to California, opening the U.S.'s first Sanrio store in San Jose; Yamamoto was sent to Los Angeles in 1982 to help the company further infiltrate the American market.
At the time, Sanrio had no creative team in the U.S., so it would simply import its Japanese products Stateside. "When I came to the United States, I had an image of American people eating their food with a fork and knife," Yamamoto explains. "But when I went to the Sanrio store, there were chopsticks, a chopstick holder, a rice bowl. At that time, Japanese food wasn't popular at all in the United States, so I thought, 'Is there even anything for Americans to buy here?' Although the chopsticks were popular in Japan, they of course never sold in the U.S."
Within a couple of years, a full-fledged creative team was built out of Sanrio's San Francisco office to address the American consumer. This was also a time both when Sanrio HQ was shifting its focus from products for young girls to items that would appeal to people of all ages and when Hello Kitty started to gain some serious traction. At the time, Hello Kitty accounted for about half of Sanrio's business; these days, it makes up 75 percent.
"The most important thing we focused on when adapting to the American market was color," he continues. "Hello Kitty was basically red, but then we started making designs with pink and purple. Purple will never be popular in Japan, but it's very popular in the United States. The next thing to adapt to was trend. One of the big differences was with back to school. In the U.S. at that time, everybody used a backpack. But in Japan, we never did—backpacks were just for picnic purposes. So we made backpacks. Even pencils! In Japan, pencils don't need an eraser on the top, but in U.S. they do. Once we started adjusting those things to the market, our business started selling well in United States."

A couple of weeks before the con, Ariel Martin greets me at the door of her Hell's Kitchen apartment building in a strapless Hello Kitty dress (complete with 3-D red bow) and flip-flops. She has perfectly curled hair and a fresh face of makeup befitting a native Texan.
Everything in her small studio apartment works within a pink, black, and white color scheme. There's a modest amount of Hello Kitty merch—a mouse pad, an alarm clock, tons of little collectibles—but the bulk of her collection lives in a room in the Houston home she shares with her husband. She estimates it's worth somewhere in the six figures.
"It's something that's magnetic," she says while petting her long-haired Chihuahua Abby, who's wearing a ruffled one-piece that reads "Super Adorable" in bubble type. "I can't explain it, I don't know why I'm drawn to Hello Kitty. It's nothing specific, it's just that every time I see something, I want it."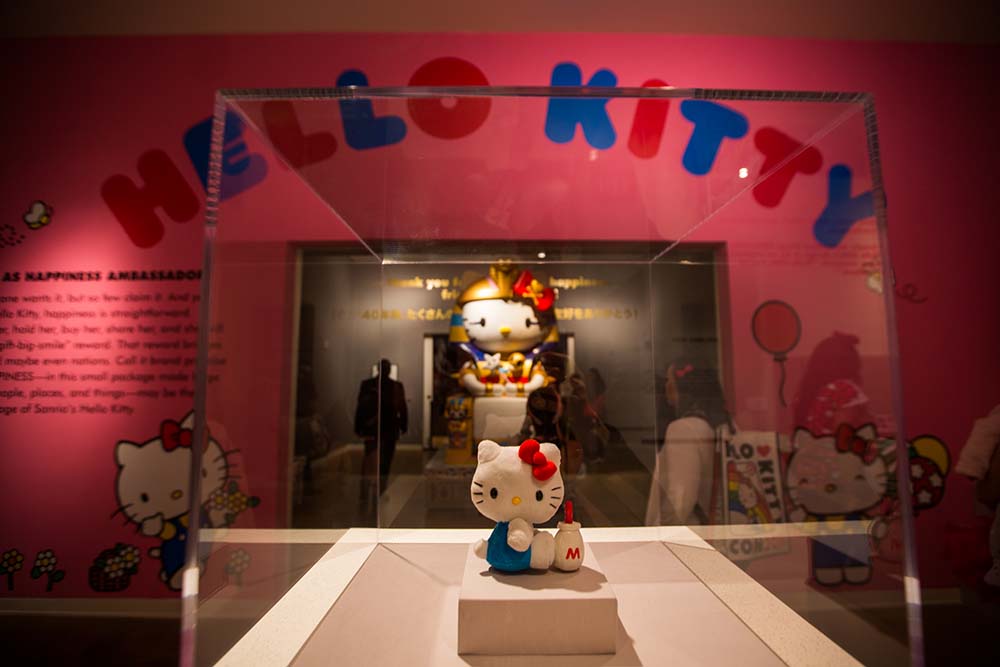 "It's something that's magnetic. Every time I see something, I want it."
The 28-year-old self-described housewife splits her time between Texas and New York, and chose this particular apartment because of its proximity to the now-closed Sanrio store in Times Square.
"When I designed my apartment, I knew I needed to go with something Hello Kitty-themed," she says. "That's why the walls are hot pink. I just started bringing everything I could find that matched my pink theme, which is a lot with Hello Kitty, and putting it here so that it wasn't too much for my husband to handle, but it was enough to satisfy me. And in Houston, my collection just keeps growing, I have shelves that cover the walls. My entire queen bed is full of stuffed plushes. It's an outrageous amount of stuff. I'm trying to convince my husband to buy me a bigger house!"
"It's an outrageous amount of stuff. I'm trying to convince my husband to buy me a bigger house!"Whereas fellow superfans Marty Garrett and Salumeh Eslamieh are of the mind that less is more, Martin doesn't discriminate when it comes to her collection. However, like the couple, she seeks out Hello Kitty experiences around the globe.
"The craziest thing I've done is fly to Taiwan on the EVA Air Hello Kitty plane," she says. "The flight is supercute—it's not overdone with Hello Kitty. They have Hello Kitty headrests, and the flight attendants wear Hello Kitty aprons and the food comes out and it's all Hello Kitty-shaped. It's really understated and perfect, and if you hate Hello Kitty, you can get on there and not wanna puke."
Once she landed in Taiwan with her husband, they beelined to the Hello Kitty Cafe to eat burgers with Hello Kitty buns. They plan to take another ride on the Hello Kitty jet now that EVA Air has extended service to Paris. Though her husband isn't a Hello Kitty fan himself, he has no problem indulging her interest.
"He loves that he always knows what to buy me for a present," she says. "If he's working late at the office and knows I'm going to be upset, he runs by Target and grabs something on his way home. I'm easy to buy for, and it's cheap! It's not like I want really expensive jewelry or something. My collection is pretty contained in my display room, though some of it gets put in other places. Sometimes I'll get duplicates of things, so I use one and display the other, like the toaster, for example."
Growing up in the suburbs of Houston, it was hard for Martin to track down Hello Kitty paraphernalia as a kid, but starting in her teen years, it was suddenly everywhere. This is due almost entirely to licensing, which now accounts for 80 percent of the Hello Kitty business worldwide.
"Sanrio has made one major change," Ken Yamamoto says. "And that was establishing a licensing department in 1999. We decided to explore licensing because of Hello Kitty's popularity—we saw it as a way to expand the business."
A successful McDonald's Happy Meal promotion in 2000 kicked off what can be considered the beginning of the modern Hello Kitty boom. "I think most females knew Hello Kitty," Yamamoto continues, "but papa or brother didn't know the Hello Kitty name. But when we worked with McDonald's—because the Happy Meal was all over the place—people started recognizing her. Teenagers started catching up with Hello Kitty. She used to be only cute, but now people were calling Hello Kitty cool."
It wasn't just Hello Kitty that was getting cool at that time—Japanese culture in general was taking center stage, and Sanrio could once again capitalize on a groundswell. As anthropologist Christine Yano explains, "The early 2000s was a period in which the notion of Japan's 'gross national cool,' came to be. It's a phrase coined by an American journalist, and it coincides with the uptick of interest in anime and manga and other aspects of popular culture from Japan. Hello Kitty could conveniently fold itself into that. She preceded that time, of course, but she also rode the wave. That's actually part of what I think is so clever about Sanrio: They're willing to have her ride the wave, whatever wave it is. The key to her longevity is this corporate flexibility. Sanrio let go of a certain amount of control. They aren't so rigid with the character—they don't say, 'Oh no, she can't do that, she has to be a little girl.' They let her be anything."
"They're willing to have her ride the wave, whatever wave it is.""The beauty of the licensing business is that we don't need to expand ourselves," says Ray Hatoyama, managing director and chairman of Sanrio. "We can expand by liberating our partners, and with many companies recently trying to globalize, we can get on the train as well. It's not just about kawaii culture going abroad, it's really about bringing happiness to these other places. That's the core of our philosophy."
Though licensing can be disastrous for companies, watering down a brand to the point of no return, it proved to be the opposite for Kitty. Her simple form was the perfect canvas for brands ranging from Vans to Playboy to capitalize on Japanese cool, and still, through every iteration, she remained Hello Kitty, perfectly distinct and indistinct at the same time.
Over the last decade, Sanrio has localized its operations, empowering management in Europe and the U.S. to take control of their markets and licensees. What's emerged are distinct aesthetics: a more feminine approach that appeals to adults in Japan, where Kitty can be found with blush on her face and long, humanlike legs; a vintage look in the States, where a younger audience eats up original Hello Kitty designs; and an emphasis on sophistication in Europe, where the kawaii element is much less present.
The next regions to target are Eastern Europe, Africa, and Russia, where Hello Kitty products are sold but no official Sanrio teams are in place. Beyond that, Hatoyama says, "Many companies are trying to go into developing countries, and we are moving on to those countries, too, through licensing and partners."
The licensing surge of the early 2000s also happened at a time when celebrity culture was reaching fever pitch. Us Magazine pivoted from a monthly format to become the celeb-obsessed Us Weekly; Perez Hilton launched his eponymous site, while Paris Hilton became a household name.
"People started seeing pictures of Paris Hilton and Mariah Carey more and more, and these celebrities would be seen carrying and using Hello Kitty products," says Dave Marchi. "They were fans just like everyone else. That catapulted us, just by them showing up and being photographed. It was completely natural—it wasn't like we are going to pay Mariah Carey $50,000 to walk down the street holding a Hello Kitty boom box. She just did it, and it was authentic, and that's what made it interesting. Legions of fans would see that, and it would send a message like, 'Wow, if Mariah Carey's holding this, or Paris Hilton or Tyra Banks shows up to an awards ceremony carrying a Hello Kitty purse, I can enjoy it too.'"
"It wasn't like we are going to pay Mariah Carey $50,000 to walk down the street holding a Hello Kitty boom box. She just did it."
For pop stars in particular, publicly flaunting Hello Kitty love has also become a way to penetrate the lucrative Japanese music market, which is second only to that of the United States. In recent years, Lady Gaga posed for a famously surreal Hello Kitty-themed photo shoot, and Avril Lavigne dedicated a whole song to the character, with an accompanying video that caused American critics to cry appropriation, while Japanese fans ate it up.
It's fitting then that on the first day of Kitty Con, Katy Perry and her entourage whisk by me to see the custom Hello Kitty corset designed by the Blonds that Perry wore in 2009 on display at JANM. She'll later Instagram the free Hello Kitty finger tattoo she gets at the HK Ink tattoo parlor. Under the photo she muses, "Does this make my gang signs look soft now?"

November 1st, the third day of the con, is Hello Kitty's birthday. Though Sanrio is careful to explain the perpetual third grader is celebrating her 40th anniversary, it holds a birthday party at L.A.'s trendy Line Hotel nonetheless.
The party is like a cool tween's bat mitzvah, motivational dancers in a low-ceilinged ballroom and all.The party is like a cool tween's bat mitzvah, motivational dancers in a low-ceilinged ballroom and all. There are kids swarming a candy bar with Hello Kitty treats, Lolita girls holding court at a pair of ping-pong tables, and a DJ spinning Top 40 hits by the pool. Fans line up for a photo booth, as well as grab drinks at a circular bar that serves Hello Kitty champagne out of metallic pink bottles.

Kitty herself makes an appearance on the red carpet in a quilted silver coatdress and bejeweled bow, posing for photos with Yuko Yamaguchi and other Sanrio execs and some lucky fans. Everyone gets a hug too—Kitty is really into hugs. As part of her 40th anniversary celebration, she's collecting hugs around the world, tallying them via a Global Hug Report on the Sanrio website.
But not everyone loves Hello Kitty. Perhaps the most vocal of her detractors is a middle-aged man I'm going to call John who runs the blog Hello Kitty Hell. Though the site is intended to skewer what John calls "cute overload," it's one of the most detailed archives of Hello Kitty ephemera.
He's been cataloging bizarre Hello Kitty items, both official (motor oil, the infamous "vibrator" that Sanrio marketed as a shoulder massager) and not (guns, crystal butt plugs), since 2006 as a reaction to his then-wife's Hello Kitty obsession. We're supposed to meet up at the con—he says he lost a bet to a friend, so was being forced to attend—but he bails on the event before we get the chance.
Instead, we talk on the phone, under the condition of anonymity. "The site started off as a joke," he says. "It was so ridiculous to me! It was never supposed to be something that became popular, and it surprised me to a great degree when it did. I just started putting up strange things, and since I was the only site doing that, hard-core Hello Kitty fanatics caught on and spread the word."
At its height, circa 2008, John estimates his site was getting half a million hits a month, earning him about $75,000 a year in ad revenue.
"I made it into a site where I would torture fans as much as they would torture me," he says. "They all wanted to know where they could get the stuff I was putting up, and I wouldn't tell them. People would get livid."
What angers John about Hello Kitty is how diehards "don't realize it's a business. They're willing to go to this con and brand themselves with a brand that doesn't care about them and just wants them to spend money. Hello Kitty is a cute thing that means nothing."
The bulk of what John posts are fan submissions; it's a badge of honor to make it onto Hello Kitty Hell. During the site's peak, he was afraid to open his email inbox, which often contained nude photos sent in to show off otherwise-hidden Hello Kitty tattoos.
"The thing that creeped me out the most were the cutters, the people who scar themselves with Hello Kitty."Though John is disturbed by what he perceives as an increased sensuality attached to Hello Kitty in recent years, it's more of a cultural divide than anything else, explains Christine Yano. "It all fits in with the Japanese concept of asobi, which means play," she says. "Asobi is this kind of winking presence that Hello Kitty has: 'Yes, I'm an innocent little girl, but, wink wink, I can be a personal massager.' That winkingness allows for both the cute and the sexy all bundled in one, and the attraction there is that it's both."
John's seen worse than Hello Kitty nudes, though: "The thing that creeped me out the most were the cutters, the people who scar themselves with Hello Kitty. They cut her face into their skin so they're left with a permanent mark."
Much to Sanrio's dismay, there are other bits of darkness attached to the Hello Kitty brand, like 1999's Hello Kitty Murder, in which a nightclub hostess in Hong Kong was tortured over the course of a month for a debt she was said to have owed. She was then killed and dismembered, her head stuffed into a Hello Kitty doll.
John posts a lot less frequently these days. He says he's no longer interested since there are now plenty of sites covering what he used to have a monopoly on, plus "part of the fun for me was getting satisfaction from not telling fans where to get stuff, but now they can find it with ease on their own."
He does concede a Sanrio truism, however: "They ended up being brilliant marketers. They figured out there's a ton of people who are willing to spend money on stuff as long as it has a cat on it. It is what it is—it's a phenomenon for sure."

One of the most popular attractions at the con is a short preview of Hello Kitty's Supercute Friendship Festival that occurs on the main stage four times each day. There is singing and dancing, people in costume and out, some wielding drums. This, and the con itself, are a means of introduction to the next phase of Hello Kitty: the experiential era.
"People talk about the past, or it used to be this way, or I wish it was still that way," Yuko Yamaguchi tells me. "But for me, I immediately forget what's happened. I forget about the design I did last year. I'm always thinking about next year and the year after that. Now I'm ready for Hello Kitty to be a musical star."
The Supercute Friendship Festival kicks off in May and promises "DJ-driven dance segments," photo opps, craft workshops, shopping kiosks, and more—seemingly, a slightly scaled-down touring version of the Kitty Con.
"We really believe in connecting with our fans," says Janet Hsu, president and COO of Sanrio's U.S. subsidiary. "The festival is an interesting concept—it's an interactive show. You're not just going to be sung to or danced to; it's an interaction with the world of Hello Kitty. We'll have activities and moments with Hello Kitty and other Sanrio characters."
Beyond the festival, Hello Kitty plans to open up the country's first true Hello Kitty Cafe in Orange County next summer, as well as roll out a new Sanrio store concept that will prominently feature experiential elements. In L.A., there's buzz that Sanrio is shopping around a Hello Kitty movie to the major studios, with development execs clamoring for tickets to the con; while Hello Kitty cartoons have run on and off in the past, there's yet to be a true entertainment franchise built around the brand.
An announcement of this shift in strategy, characterized as an effort to scale back on licensing, caused Sanrio stock to plummet earlier this year, but Ray Hatoyama insists miscommunication was at play.
"This was an overreaction to some comments which came out of a press release," he says. "What we meant to say is we want to balance our retail business with our licensing business. We're not going backwards. We're not going to shrink our licensing, but we are going to add more to the retail side."
"Starting in 2015, our new demographic is men in their twenties."Ken Yamamoto echoes the sentiment: "We haven't changed our business model, but it's important for Sanrio to move forward. Sanrio stores used to be the core, and then we expanded into the wholesale business. Now licensing is our leading business, and we've started looking into a different type of retail to give a new experience to the consumer."
Other changes are afoot, too. Next year in Japan, Hello Kitty will explore her masculine side. As Yamaguchi explains, "This past 40 years, Hello Kitty was for women, but starting in 2015, our new demographic is men in their twenties. Our goal is to capture the hearts of young men."
She's consulting with male celebrities and men's fashion designers to figure out how to get guys fully aboard the Hello Kitty train. While the new men's line won't roll out in the U.S. (not yet, at least), Hsu says the company will continue to put out men's products like New Era caps. This year, Major League Baseball also initiated a partnership with the brand.
But contrary to this next coming of Hello Kitty, Sanrio is trying not to put all its eggs in the Hello Kitty basket. "One of my efforts," Hatoyama says, "is to make the portfolio larger by creating new characters and adding characters by acquisition too. That doesn't necessarily mean the Hello Kitty business will decrease, but as a company, we need to grow a lot bigger than Hello Kitty can grow."
He cites Disney's acquisition of Pixar, Marvel, and Lucasfilm as an example: "It doesn't mean that other Disney businesses are going down, right? Hello Kitty will surely be our core business, but we're looking to expand."

When I arrive back in New York City after the con, the floor mats in my cab have Hello Kitty on them. I watch a show on Hulu, and an Apple commercial featuring Hello Kitty comes on. Friends send me photos of Hello Kitty wine in their apartments and Hello Kitty Band-Aids at their offices. She is everywhere but still weirdly elusive, a supremely cute and exceedingly blank icon.
"People build things that are loved for hundreds of years, and Hello Kitty has been chosen as one of those things," Ray Hatoyama shoots back when I ask him how we ended up here. "It's almost like asking, 'Why do people still listen to the Beatles?' Hello Kitty is going to be here for the next 40, 50, 100 years. I think the real reason she's universal is because of Sanrio's concept of spreading happiness and making people smile—these are the elements of being human." He pauses for a beat. "Hello Kitty speaks to the fundamentals of humanity."

Design: Dylan Lathrop
Development: Josh Laincz
Photography: Elizabeth Daniels